Note that the print records below relate to University of Bolton stock or Amazon and are included to indicate the print resources that should be available at your centre, if you are studying at an off-campus location. You can access the e-resources included in the list by clicking on 'Online Resource' and logging in with your University of Bolton username and password. Google Preview may be available for some of the print titles - click 'Preview' to access.

Academic Databases

3 items

Academic databases will help you find information from thousands of journals, books etc. The individual databases most relevant to your subject are listed below, but you can use the link in the Library Resources section to Discover@Bolton, the Library's integrated search service, to search them simultaneously.

Webpage Full text journals collection. Some of the titles are embargoed for up to a year from publication before they are available on the database.

Webpage Full text database with good coverage in your subject area.

Webpage Abstracting and indexing database for your subject with full text access to over 500 journals.

Library Resources

3 items

Webpage LEAP Online contains information on the skills you need to achieve to complete your studies. You may find the section on referencing particularly useful.

Webpage Discover@Bolton is a single search engine to search for books, ebooks, ejournals and other Library resources. Discover@Bolton allows you to search multiple databases at once via a single interface.
All rights reserved ©
Profile Required
Reading intentions and notes are stored against your user profile. Please create a profile to use this feature.
My notes
You must be logged in to add a note
What are item notes?
You can use item notes to make personal notes on any of your reading items. Notes are private to you and will not be shown to other users.
You can review your item notes from the list, the item page or from your profile page.
---
How do I create an item note?
To make notes, first you must be logged in. Once logged in, simply click Add note? next to the list item you wish to make notes on. You can also make notes at the bottom of every item's detail page.
Your note will be saved automatically as you type.
Have you read this?
You must be logged in to set a reading intention
What are reading intentions?
Setting up reading intentions help you organise your course reading. It makes it easy to scan through your lists and keep track of progress. Here's an example of what they look like: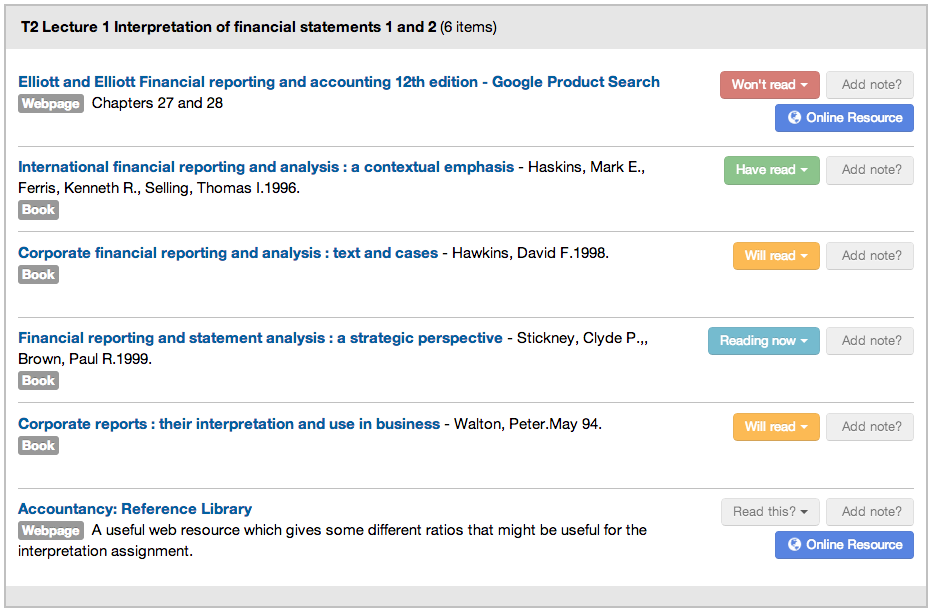 Your reading intentions are also stored in your profile for future reference.
---
How do I set a reading intention
To set a reading intention, first you must be logged in. Once logged in, click Read this? next to the list item you wish to set a reading intention for.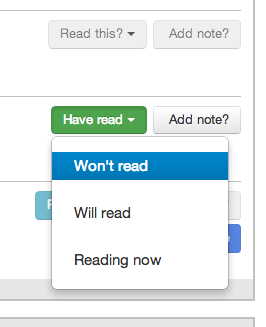 You can also set the reading intention from every item's detail page.