Off-campus access to ebooks may involve some extra steps: MyiLibrary – ignore the MyiLibrary login boxes and select UK Access Management Federation, locate University of Bolton and click login. EBSCO (Net Library) – ignore the EBSCO login boxes and select Shibboleth and then find UK Higher Education and University of Bolton to login.

Academic Databases

2 items

Academic databases will help you find information from numerous journals and magazines. The individual databases most relevant to your subject are listed below. Some of them are searchable via the Library's integrated service, Discover@Bolton, listed below in the Library Resources section.

Webpage Art Full Text contains articles about fine, decorative and commercial art, folk art, photography, film and architecture from over 300 journals, many of which are available in full text. It also includes details of images within articles.

Design and Applied Arts Index (DAAI)

Webpage DAAI contains information from over 450 journals covering all aspects of design and crafts. Topics covered include ceramics, glass, jewellery, wood, graphic design, fashion and clothing, textiles, interior design, architecture, animation, product design, garden design and much more.

BISSTO Home | University of Bolton

Webpage BISSTO contains information on the skills you need to achieve to complete your studies. You may find the section on referencing particular useful.

Discover@Bolton | University of Bolton

Webpage Discover@Bolton is a single search engine to search for books, ebooks, ejournals and other Library resources. It allows you to search multiple databases simultaneously.
All rights reserved ©
Profile Required
Reading intentions and notes are stored against your user profile. Please create a profile to use this feature.
My notes
You must be logged in to add a note
What are item notes?
You can use item notes to make personal notes on any of your reading items. Notes are private to you and will not be shown to other users.
You can review your item notes from the list, the item page or from your profile page.
---
How do I create an item note?
To make notes, first you must be logged in. Once logged in, simply click Add note? next to the list item you wish to make notes on. You can also make notes at the bottom of every item's detail page.
Your note will be saved automatically as you type.
Have you read this?
You must be logged in to set a reading intention
What are reading intentions?
Setting up reading intentions help you organise your course reading. It makes it easy to scan through your lists and keep track of progress. Here's an example of what they look like: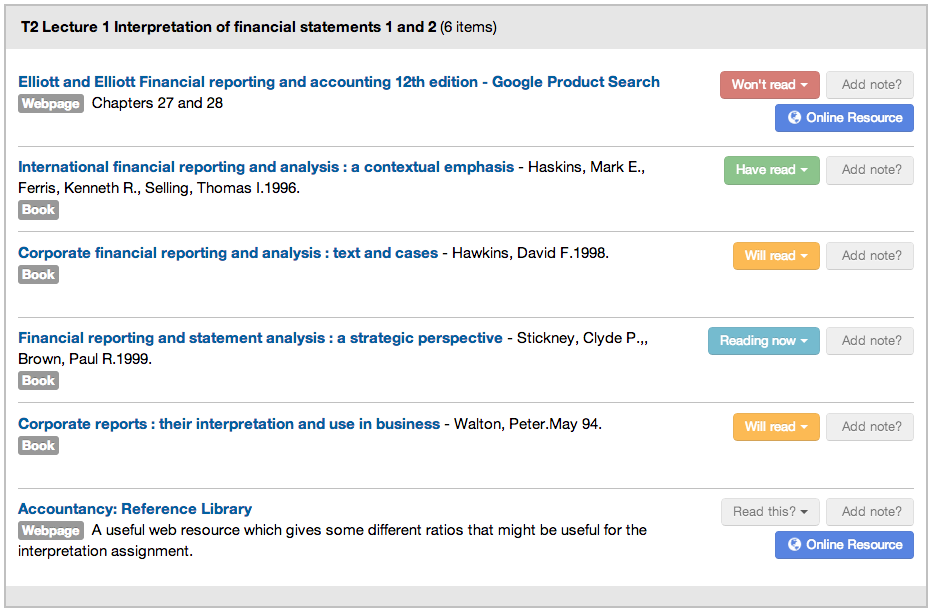 Your reading intentions are also stored in your profile for future reference.
---
How do I set a reading intention
To set a reading intention, first you must be logged in. Once logged in, click Read this? next to the list item you wish to set a reading intention for.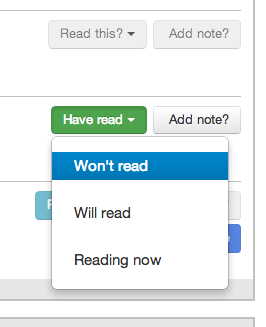 You can also set the reading intention from every item's detail page.